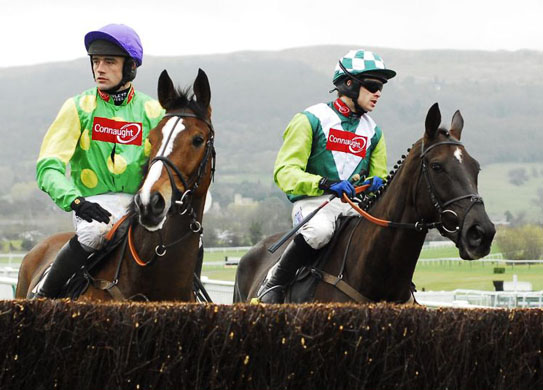 Following on from last week's Champion Hurdle ante-post preview, dear reader, and after the weekend's action, let's now grab a flyer on the big chase event, the totesport Cheltenham Gold Cup 2010.
You'll know that for the Blue Riband hurdle, I was against the first three in the betting and had instead sided with Celestial Halo, Punjabi and Go Native. After Binocular and Solwhit were trumped by the Go Native on Saturday, his odds have now truncated to 12/1 (from 33/1, 45 on Betfair) while the other two have lengthened to more realistic prices.
The fact they now go around 5/1 the field shows how wide open the race is likely to be next March and, if you followed me in on the Native ante post, you've a lively ticket in the portfolio at least.
Of course, there'll be many swings and roundabouts between now and then, but we at least have something to hang onto. 🙂
********
To the meat of today's post, and the totesport Cheltenham Gold Cup 2010. This race has been monopolized in recent years by three horses and two trainers: Kauto Star and Denman from the Paul Nicholls yard; and Hen Knight's inimitable hat-trick hero, Best Mate.
Taking the same approach as with the Champion Hurdle, and focusing on trends with the Gold Cup winners from their races prior to December and their best form the previous season, some bombproof stats come to the fore.
Graded Stakes Win This Season
Seven of the last eight winners had won a Graded stakes race before the start of December (Denman won the Hennessy on 1st December, and is included on that basis). The one who didn't finished 2nd in a Grade 2, and was Best Mate. At that point, he had already won the previous two Gold Cups!
So we're definitely looking for a horse who has already won a Graded race this season.
Cooldine, Imperial Commander, Notre Pere, What A Friend, Aran Concerto, Joncol, Barbers Shop, Madison de Berlais, Killyglen and Glencove Marina have all failed to do this (though a couple have gone mighty close).
Indeed, Kauto Star, Denman and Albertas Run are the only three main protagonists to have a tick in this seemingly important box.
Winner in G1 Chase or 2nd in Festival G1 Chase Last Season
Next up, all of the last ten winners had either won a Grade 1 chase the previous season (8/10), or had finished 2nd in a Grade 1 chase at the Festival (the other two).
It's clear then that even 'surprise' winners of the Cheltenham Gold Cup have already proven themselves at the top level. They might have subsequently had a spell in the doldrums, which served to inflate their odds prior to the big day, but they've all 'walked the walk' prior to Cheltenham Friday (or Thursday as it was until recently).
Again, we put a blot against What A Friend, Joncol, Barbers Shop, Madison du Berlais, and the two Glen's: Killy and 'cove Marina.
Note of course, it is perfectly possible for one of the above named to win a Grade 1 chase between now and March and, should they do that, they'd be pushed up the pecking order for the main event.
The top three from the first stat - Kauto, Denman, and Albertas - are joined this time by Cooldine, Imperial Commander, Notre Pere and Aran Concerto.
Course Form Is Imperative Once Again
As with the Champion Hurdle (and indeed pretty much every other race at the Festival), course form counts for a lot. Quite simply, the class and hustle bustle of Cheltenham is a rarely replicated experience for man or beast and, if you've been there and done it, that is a big plus come March.
Nine of the last ten Gold Cup winners had either won or finished second in a Festival Grade 1 event. The only one who didn't was Kauto Star, who had fallen as the 2/1 favourite in the Arkle the year before winning the Gold Cup. (Perhaps if Nicholls had given him a Cheltenham race prior to the Arkle...!)
Notre Pere and Glencove Marina have never tried; Aran Concerto was a respectable 5th on his only attempt; Joncol and Killyglen have no's against them here; Barbers Shop has been 2nd in both Cheltenham starts; and, Madison du Berlais is a woeful 0 from 6 at Cheltenham (only once placed).
It's the same trio of Kauto, Denman and Albertas who highlight their chances here again. They're joined by Cooldine, Imperial Commander and What A Friend.
Age: How Old Is Too Old?
Finally, and most contentiously, let's look at the age stat.
In the last ten years, all Cheltenham Gold Cup winners have been between 7 and 9 years of age. It is very interesting to note that both Kauto Star and Denman will be ten years young if/when they line up next March.
Albertas Run, as a nine year old next year, is the only horse with a clean sweep of ticks in boxes for the big race.
But... hang on a minute. I'm not so brave (or foolhardy!) to eliminate the winners of the last three years (and runners up of the last two).
Ten year olds do win this: back in 1998, Cool Dawn won; in 1992, another Cool, Cool Ground won; and in 1988-9, Charter Party and Desert Orchid notched for the double digit brigade.
Of the two, Denman has less miles on the clock and looked as strong as ever at Newbury on the weekend. If lining up in that form, he's my idea of the winner.
You'll have worked out for yourself who my idea of the best each way wager is from the above stats. Step forward, Albertas Run. This one was a facile winner of the 2008 RSA Chase, a race won by Looks Like Trouble and Denman prior to Gold Cup glory in the last ten runnings.
His form has been in and out at best since that famous win, and he was recorded his first victory since when battling on gamely over a shorter than ideal trip in an Ascot Grade 2 ten days ago.
I'm slightly concerned about the 'busy' programme marked out for him, with both the Peterborough and King George earmarked before 2010.
I also have a niggling doubt about whether he actually stays the full Gold Cup trip.
But, that said, he has a lot going for him and - if back near his best - would be competitive in the big race itself. Don't forget too, that he finished second in the King George last year.
Selection: Denman
Best Each Way: Albertas Run
Who do you like for the Gold Cup, and why? Leave a comment below...
https://www.geegeez.co.uk/wp-content/uploads/2018/09/geegeez_banner_new_300x100.png
0
0
Matt Bisogno
https://www.geegeez.co.uk/wp-content/uploads/2018/09/geegeez_banner_new_300x100.png
Matt Bisogno
2009-12-01 01:55:52
2009-12-01 01:58:55
Cheltenham Gold Cup 2010: Key Early Pointers