New Year, New Year.
Happy New Year to you.
After a quiet spell, we're ready to kick things up a notch both in terms of editorial and our premium racing form provision. In today's post, I'd like to share with you what's coming next to Geegeez Gold...
Right Now
We made a couple of very small changes yesterday to:
- include official ratings on full results
- publish the winning time on full results
- add Report Angles to the report dropdown
Here's how those all look: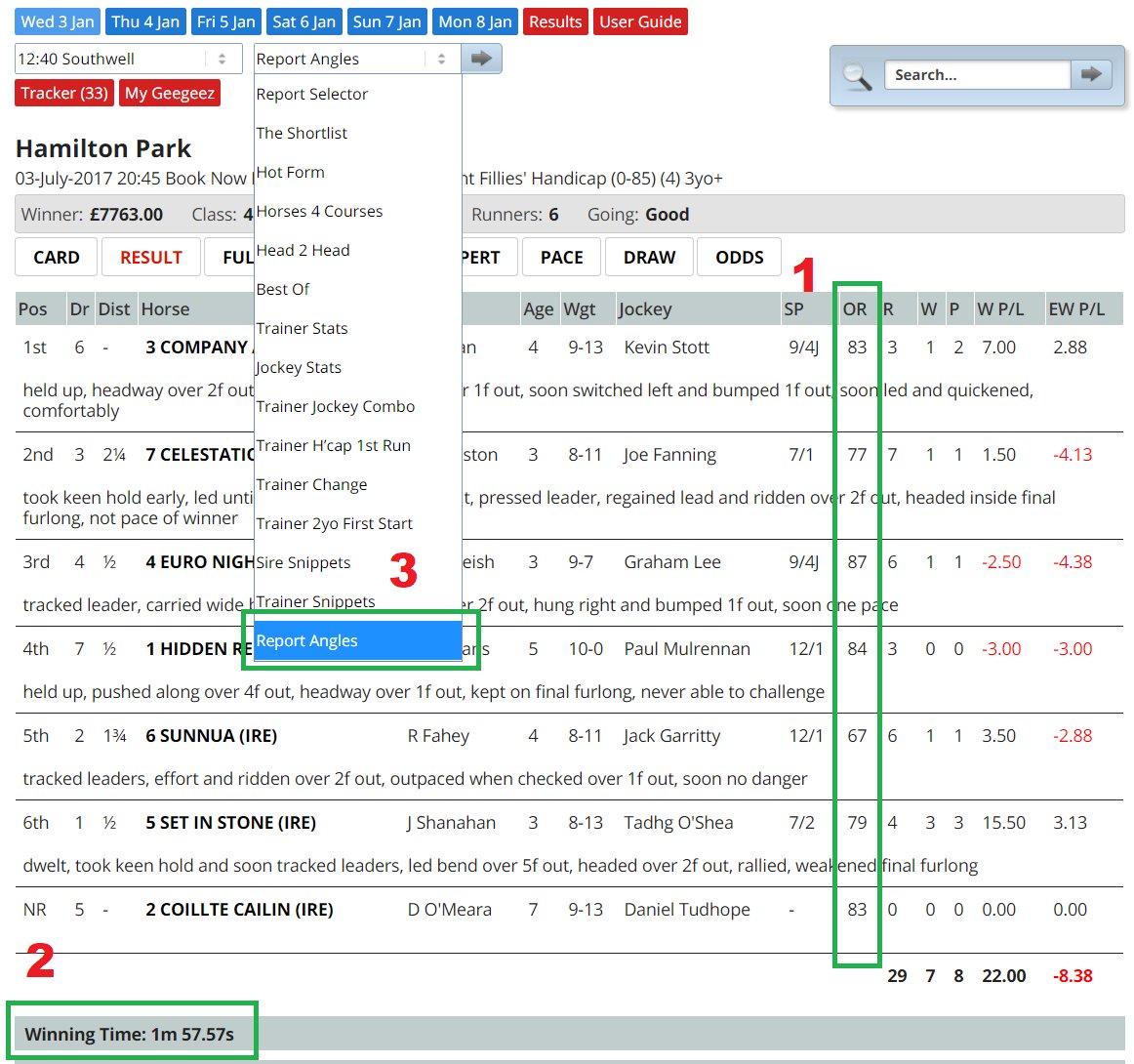 In the next fortnight
Meanwhile, being put through its paces on test as I speak are a couple of more meaningful changes.
HCAP option on Report Angles
The first of them is the addition of a HCAP option to Report Angles. When we released Report Angles a month or so ago, the first response was 'Wow!' - after we got over a couple of teething issues, that is. The second response was, "Can you add a handicap only filter, please?".
Well, we're here to bring you the stuff you want, so yes, we heard you and I'm happy to say this will be live in the near future. It's already up on my test setup, as you can see from the below image:
Pace tab: enhanced focus
The second enhancement is to the Pace tab. "In the land of the blind, the one eyed man is king" has been our motto on this front to date. That is to say that, because nobody else is doing anything meaningful on pace (which, incidentally, is the singlemost under-rated element of form study in this country, in my view), our Pace content stands apart at making it easy to see how a race will likely pan out.
But... it's been an irritant to me for some time that, for instance, the historical pace profile of a big field fast ground race may very well not be the same as for a small field soft ground race over the same course and distance.
So we've addressed that, by adding going and field size dropdowns to the Pace tab.
This is Chelmsford's 8.15 race tonight, a 7f contest between eight runners. As you can see from the top part of the image - with all going and all field sizes selected - it has been advantageous to be on the lead. Indeed, 21% of winners have raced that way for a profit of £34 to a £1 level stake.
But look at the bottom part, where we focus on standard going (which is most of the runs, of course) but also on a more targeted runner range of seven to ten. Now we can see that those horse which led have a 28% win rate and a £1 level stake profit of £73.71.
Hopefully you can see how this granularity will be useful. I'm very excited about sharing it!
[One caveat is that it will often produce small sample sizes. That's why we have the dropdowns so users can extend the ranges to get a more meaningful sample.]
**
Next six weeks or so
A little further down the line we have still more planned. I don't want to go into too much detail yet, mainly because I haven't got screenshots to show you.
But there are a couple of extra reports (class move, and SR differential) which will be interesting.
We're also looking at an Instant Expert 2.0, which will allow users to filter by Handicap/All Races, and by different time periods.
And we'll be creating some filters on the racecard menu, so you can see those races which interest you. Not interest in small field races? Only want handicaps to display? Want to exclude Irish, or UK racing? Only interested in sprints? Just want the better class stuff? You'll be able to filter by all of these things, and have your racecard menu presented to you... very soon.
Next three to six months
Looking further down the line we're working on making Geegeez Gold less prescriptive and more in line with what you want to see. We'll be enabling you to create and save angles in the Query Tool; and you'll be able to see angle qualifiers right within the racecard.
For those short on time, we're also working on a Bet Finder feature. This will identify horses running today that meet certain fixed criteria outlined by you.
Lots of exciting developments in the pipeline, and I hope they'll provide you with even more of an edge over your fellow punters.
Matt
https://www.geegeez.co.uk/wp-content/uploads/2018/01/chelmo_pace_830x320.png
320
830
Matt Bisogno
https://www.geegeez.co.uk/wp-content/uploads/2018/09/geegeez_banner_new_300x100.png
Matt Bisogno
2018-01-04 10:54:28
2018-01-04 10:54:28
New Gold Features Coming Soon in 2018...