I emailed the geegeez.co.uk mailing list yesterday to alert them of a brand new betting opportunity which is currently loaded in favour of the punter. While that short-term situation may change in the not too distant future, there are other solid reasons to stick with this innovative firm - and especially to get stuck in right now.
This has all come about due to the end of a seven year exclusive license Fred Done (Betfred) had on pool betting on UK racing. Friday 13th July was supposed to hail the brave new era of pool betting as a result of Britbet, a company created by racecourses to generate revenues for racecourses: "By racing, for racing" as their strapline almost got it right.
However, Britbet were usurped at the eleventh hour by a shadowy collective operating under the somewhat presumptuous title of "Together for the Tote" (TftT hereafter). As a result of not actually knowing who is behind this consortium or what their proposition is, either for the customer or indeed for racing, it is pretty hard to be 'together' with them, and rather easier to demand they show a little - actually, a lot - more of their hand.
Regardless, in the short term, their arrival on the scene has meant Britbet have deferred on revealing their own suite of products to rival totepool until at least October. Why is this relevant? Well, quite apart from the interesting, perhaps typical, racing back story - the words "p155 up" and "brewery" again spring to mind - there is a sort of vigilante offering which has emerged.
'Vigilante' is not quite the right word, because Colossus Bets are a stand up firm that has been in business for a few years now, operating predominantly in football markets where they have a £1 million jackpot wager.
What they also have, which is what attracted Britbet to them in the first place, is an industry-leading tech platform. In fact, it's not just industry-leading, it actually laps the opposition. Colossus were doing cash out, and partial cash out, before it was cool to do cash out; they offer consolations in many of their markets when you go close but one (or sometimes two) let you down; and they have a 'syndicates' feature which enables 'captains' to create a ticket and crowd fund it. That's what I emailed about yesterday, and what a number of you joined me in.
The technology is slick, as is the interface - on both desktop and mobile - but what about the bets?
It's very early days so things can be expected to progress from this opening gambit. But a current provision of 'place 6', which exactly replicates the placepot but with a lower takeout (20% versus 27% on Fred's ticket); and win bets for sequences of four and six races ('Pick 4' and 'Pick 6'), with consolations for 5/6 and 4/6, and 3/4, offers plenty of appeal.
In the long-term the products will be judged by their liquidity - how many people bet on them, and how much they bet - but for now there are guarantees which extend beyond the actual amount of money wagered. These 'seeded' pools make for good value: essentially we're talking about a 'top up' of free money, akin to a small rollover.
And the dividends have been significantly out-performining SP and the placepot.
The three syndicates I ran yesterday yielded a pretty good return on investment in the two winning bets (the other was a five out of six job where the placepot was not won - anyone with one of the three placed horses in leg four (12/1, 14/1 twice) would have scooped the whole pool. Pool scooping, even on small pools, is a very satisfying thing...)
I took 20% in each of the syndicates - captains can take anything from 10% to 50% - and geegeez.co.uk readers took the other 80%. As you can see, my outlay was around £80 and the return roughly £275. Nothing life changing, but a decent profit for not doing anything remotely ground-breaking. Indeed, our £80 ticket collected £979.48 for players.
And I did personally have a crack at the Southwell Pick 6, with its £15,000 rollover and four short-priced favourites. I bravely (*stupidly) banked on Gustav in leg two, who failed by a fine margin to get back up; and that after Classic Jewel had done the same in the opener with a third as much running-on money as the winner. I dropped about £90 across 15 ABCX tickets using the geegeez pool bet ticket builder. Ho hum.
With just £3,000 actually wagered on Sunday on top of the rollover, the dividend was a massive £5,577.06 for a £2 line. The same £2 at SP paid just £779.63.
Ultimately, these pools have to wash their face for the provider, so it will be interesting to see how liquidity grows in the next few days and weeks, and also to what level the pools are guaranteed. But the fact that the takeout is notably less than the traditional placepot is a big ongoing plus.
As things stand, I'm putting all of my pool bets through Colossus until such time as the dividends suggest that's no longer sensible. As you can see, that's the right thing to do currently, unless you think there's going to be a greater than 3000/1 dividend.
Day 1 (Friday)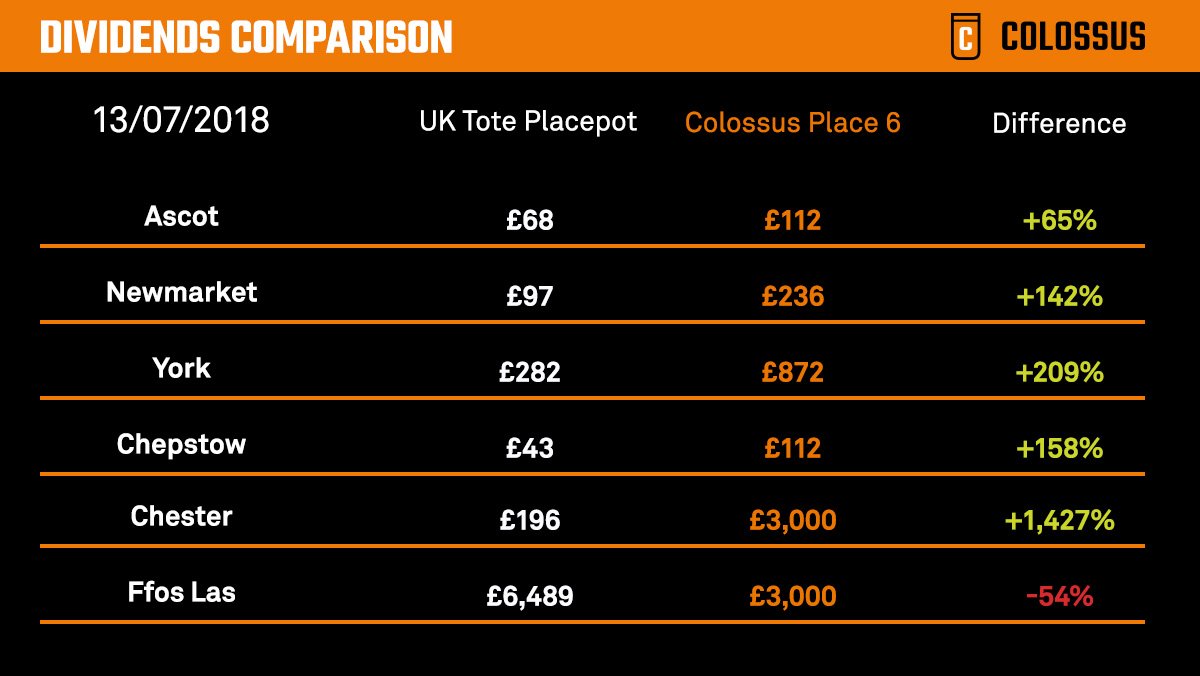 Day 2 (Saturday)
Day 3 (Sunday)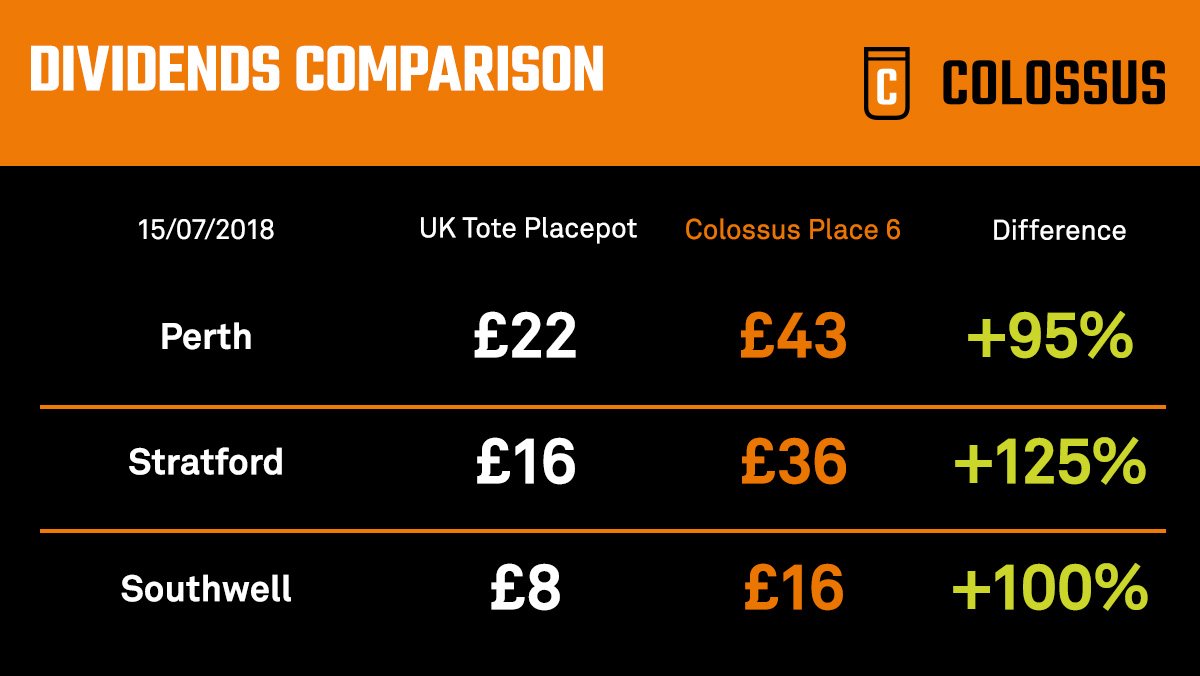 .
Day 4 (Monday)
How do you get involved with these great betting opportunities?
Account Registration
You need a Colossus account. If you haven't got one, you can sign up here and Colossus will fund your account with the same amount you bet in your first 72 hours, up to a maximum of £100. YOU MUST USE THE REFER A FRIEND CODE TO GET THE BONUS (SEE BELOW).
You can be a friend to geegeez by using the 'Refer A Friend' code, geegeez - Colossus will then send a small rebate to us from their takeout when you bet. They welcome winners and you absolutely do not need to lose for us to get our small commission. In fact, they give us a tiny bit more when you win, which is why I'm keen to promote them. So please, take down some of the big pots, would you?! 🙂
Here's the signup link again (and thank you).
Joining Syndicates
Joining one of my syndicates is easy. Click this link, choose which one you want to play and for how much, and that's it.
If the page says 'No syndicates available', that means it's filled up already. You can 'follow' me on there, and I'll also tweet out when I've created a syndicate ticket on the @geegeez_uk handle.
At this stage, I'm not committing to a particular time of day nor even that I will necessarily put syndicate tickets up (I also bet privately into some of these pools, and suggest/recommend any placepotters reading this do likewise).
But it is very likely there will be tickets to join if you'd like every day this week, and probably for every meeting - or at least as many as I have time to cover. [I do have some quite handy time-saving info-packed tools to call on... 😉  ]
It's going to be a fun few weeks, and will also be really interesting to see how tote fights back and how the TftT/Britbet story unfolds. Do join the party if it sounds like your kind of thing!
Matt
p.s. I'm writing a few notes on the syndicate action on the forum at this link. [Gold subscribers only in the forum, I'm afraid].
https://www.geegeez.co.uk/wp-content/uploads/2018/07/CB_830x320.jpg
320
830
Matt Bisogno
https://www.geegeez.co.uk/wp-content/uploads/2018/09/geegeez_banner_new_300x100.png
Matt Bisogno
2018-07-15 20:39:45
2018-07-17 11:04:25
**THE hottest betting opportunity right now**